How To Reset Digitech Vocalist Live FX
|
Last Updated on June 20, 2022 by Nick
This is a vocal effects processors from DigiTech. The DigiTech Vocalist Live FX pedal is just what you get when one of the industry's leading live vocal effects processor makers teams up with legendary reverb maker Lexicon and world-famous live processor creator dbx. It's sounds more than good enough for the studio, but it's built for, and thrives on the stage. The Vocalist Live FX features more than 65 studio quality effects for singers, including licensed Lexicon reverb and dbx compression as well as a smart harmonizer, pitch/FX, distortion/filter, modulation and delay. This pedal also comes loaded with 15 incredibly useful processors and great-sounding effects. Gold Channel Mic Pre that engages a channel strip/global FX, a 70 second phrase repeater/looper makes dialing in your vocal sound easy, and a 12-band feedback suppresser is a real show saver.
According to several user reviews of the Digitech Vocalist Live FX, some users have praised it for the effects are top notch; easy to program; harmonies sound real. And there is not yet a complaint.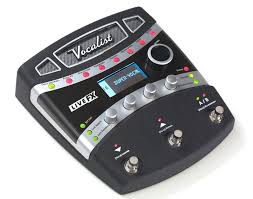 Image source:
digitech.com
Factory Reset:
To restoring the factory settings of Digitech Vocalist Live FX, first press the System button and navigate to page 5 within the "System Edit" menu by pressing the DATA encoder four times. Finally, turn the Edit 1 knob to initiate the Factory Reset procedure.
Warning! This procedure will delete your stored presets. So be sure you want to erase the memory and return the Digitech Live FX to its factory default state before continuing with this procedure. Hopefully the article of "How To Reset Digitech Vocalist Live FX" was useful.
Reference: Digitech Vocalist Live FX Manual