How To Reset A Digitech RP1000 To Restore Factory Settings
|
DigiTech is an American company that manufactures digital guitar effects. The company debuted its RP Series line of floor-based processors in 1991 with the RP1 digital guitar preamp/effects processor. Since then the company has continually upgraded, improved and expanded the line. The RP1000 Integrated Effect Switching System is DigiTech's newest top-of-the-line addition, and while it may not actually be the one-thousandth model in the RP line, it does represent a significant leap in technology for the entire series.
The DigiTech RP1000 guitar pedal is loaded with over 160 effects and 200 presets giving you a splendid range of tones. With an integrated effects switching system, no longer will you have to do the pedal tap dance—just select your preset and your tone is engaged, just the way you like it. This DigiTech pedal comes with a built-in phrase looper with 20 seconds of record time. You can also route external effects pedals through it using the stompbox loop.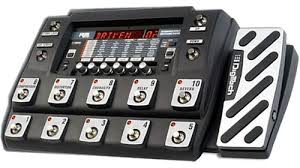 Image source: robchapman.tv
Factory Reset:
To restore factory settings of Digitech RP1000, power on while simultaneously holding the "STORE" button. When the display prompts you with "FACT RST", release the Store button, which is now flashing. Finally, Press and hold the flashing Store button for 3 seconds until "RESTORED" appears in the display and release.
That procedure erases all custom User presets, and recalibrates the Expression Pedal. So be sure you want to erase the memory and start fresh before continuing with that procedure. Hopefully the article "How To Reset Digitech RP1000 To Restore Factory Setting" was useful.
Reference:
http://www.harmanpro.com/images/media/RP1000_OM_EN.pdf