How To Reset Boss ME-70 To Restoring The Factory Settings
|
A multi-effects unit that's as easy as a stompbox — that's the beauty of the new ME-70. Like the previous ME models, the ME-70 works more like a 'virtual pedalboard' than a standard multi-effects unit. As the larger sibling of the ME-25, it's loaded with much of the same features and BOSS has provided plenty of real-time control here. But It's different to the smaller model and the GT series because it essentially works as a collection of analogue pedals rather than a software-heavy digital system.
According to several user reviews of Boss ME-70, this pedal gets some compliments such Intuitive; analogue-style layout; Easy to use; Sounds great; with all major types of effects; plenty of footswitches and an on-board looper. But this multi-effects gets some complaints such Tiny "Bank" buttons make selecting patches a nightmare without an additional footswitch; slightly squashed control panel.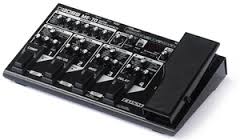 Image source:
jimismusicstore.ie
Factory Reset:
To Restoring The Factory Settings of Boss ME-70, first switch to Manual mode by press number pedals 3 and 4 at the same time. Then hold down EDIT/EXIT button and press MOD pedal until "F" appears in the display, and push the WRITE button. Finally press Write button again while the tuning guide flash.
Warning! This procedure will restore User patch, tuner reference pitch, and knob response method to the values set when the unit was shipped from the factory. Hopefully the article of "How To Reset Boss ME-70 To Restoring The Factory Settings" was useful.
Reference: Boss ME-70 Manual