How To Reset And Pot Re-calibration in the VoiceTone Singles
|
Last Updated on June 20, 2022 by Nick
With the VoiceTone Singles line of stompbox effects pedals for vocalists, TC Helicon has hit a home run.  The VoiceTone Singles series feature 7 new single function pedals designed to add professional vocal results and offer maximum flexibility and portability. Any singer — from a rock band frontman who wants to experiment and control his own sound to a solo songbird who can't afford the luxury of a soundman to add effects to her voice — will love these units. The are all stoutly built 'stomp boxes'  for vocalists that up to four VoiceTone Singles can be linked together in the signal chain with the ability to be controlled via the newly released TC Helicon MP-75 microphone. The kit includes a 12V power supply, 3 x DC daisy-chaining connectors, 3 x short XLR cables.
According to several user reviews of TC helicon VoiceTone Singles, some users have praised it for the easy to use; good audio. Also, some users have complained it for the limited Functions.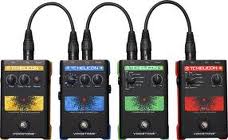 Image source:
themodernvocalistworld.com
Factory Preset:
To restoring the factory preset in the Mic Mechanic, first you must downloading the VoiceSupport application. Then simply click the first preset in the list and SHIFT and click the last preset in VoiceSupport, and then press "Apply Changes" to start initialization of the program.
Pot Re-calibration:
Quickly power up and power down the unit three times while simultaneously holding the Footswitch.
Then turn the pot fully counter clockwise and press the foot switch once.
Next, turn the pot fully clockwise and press the foot switch once.
The potentiometers are calibrated from left to right and the top right LED will change color as each potentiometer is successfully calibrated. For indicated left pot (Green LED), center pot (Orange LED), right pot (Red LED). You should do the 2 and 3 steps for each pots. And every you calibrate a pot, the top right LED should change color to indicating the pot is successfully calibrated. Once you have calibrated the third pot, unplug and re-plug the device to resume normal operation.
Check out the video below for more help:
This procedure can running in VoiceTone Singles series such as T1, C1, D1, R1, H1, E1, and X1. Hopefully the article of "Restore the Mic Mechanic to the Factory Preset" was useful.
Reference: VoiceTone Singles support