How To Reset And Calibrate the Expression Pedal Of DigiTech Vocal 300
|
Last Updated on June 20, 2022 by Nick
The DigiTech Vocal 300 is a Vocal Effects Processor with a built-in expression pedal. It is designed for vocal mikes and singers so it is super clean or saturated, depending upon your custom settings. Equipped with Mic pre and voice characters, compression, EQ, noise gate, chorus, flanger, phaser, tremolo, vibrato, strobe, doubler, envelope, pixelator, detune, pitch, Whammy, digital delay, analog delay, ping-pong delay, 8 reverb types and more. It comes with 38 fully programmable studio quality effects (up to 7 effects at once). The Vocal 300 also includes 40 great sounding Factory Presets and 40 User Presets for your own custom creations.
According to several user reviews of DigiTech Vocal 300, some users have praised it for the good audio; Easy To Use; Versatile. But some user also have complained for the limited functions.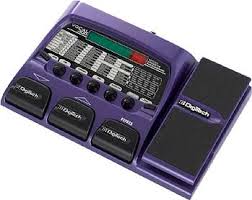 Image source:
dancetech.com
Factory Reset:
To restoring the factory settings of DigiTech Vocal 300, first connecting the power supply while simultaneously holding the SELECT button until "RESET?" appears in the displays and then release the button and press the STORE button. The Factory Reset procedure is complete.
Expression Pedal Calibration:
To calibrate the DigiTech Vocal 300's Expression Pedal, first connect the power and press the DOWN footswitch until "TOE DN" appears in the displays, and you must press the expression pedal forward (toe down) and press a footswitch. Press the expression pedal toe up and press a footswitch when "TOE UP" appears in the display. Now "VSWTCH" appears in the display, To calibrate the V-Switch press down hard on the toe until DONE appears in the display. The sensitivity value appears in the numeric display. The display toggles between VSWTCHOn and VSWTCHOf. Finally, press any footswitch to return to Performance mode with the changes saved.
Warning! This procedure erases all custom user presets and return all of the settings to the values when the DigiTech Vocal 300 was shipped from the factory. So be sure you want to return the DigiTech Vocal 300 to its factory default state before continuing with this procedure. Hopefully the article of "How To Reset And Calibrate the Expression Pedal Of DigiTech Vocal 300" was useful.
Reference: DigiTech Vocal 300 Manual