How To Reset And Calibrate The Expression Pedal Of Digitech RP500
|
The RP500 takes the complexity of an effect switching system and combines it with the simplicity of stompboxes. Combining design elements of the smaller units with a crisp new silver/black look, the RP500 is the latest and largest addition to the RP range.The RP500 features a Pedalboard mode that allows you to turn on and off individual stompboxes and effects by pushing buttons 1-5. There are 100 presets built in that have great sounds and thousands more that you can create through different combinations of gear. Full arsenals of tones are at your disposal, all easily controlled.
According to several user reviews of Digitech RP500 Multi Effects, some users have praised it for the Good selection of effects; Versatile; well-designed interface. But some users also have complained for the No Looper; uncomfortable expression pedal.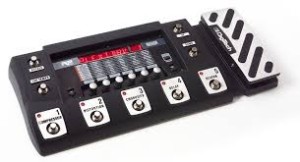 Image source:
zzounds.com
Factory Reset:
To restoring the factory settings of Digitech RP500 multi effects, first power on while simultaneously holding the Store button, and rellease it when "FACT RST" appears in the display and that button will flashing. Press and hold the Store button again for 3 seconds until "RESTORED" appears in the display and release it.
After the Restore procedure is complete, the Expression Pedal calibration procedure will begin.
Expression Pedal Calibration:
To calibrate the Digitech RP500's Expression Pedal, first hold the Bypass Footswitch until "PEDALCAL" appears in the display. When the "TOE DOWN" appears in the display, rock the Expression Pedal forward (toe down) and press Footswitch 5. When the Display prompts you with "TOE UP", rock the Expression Pedal back (toe up) and press Footswitch 5.
The Display now prompts you to calibrate the V-Switch sensitivity (VSWitchxxx), where XXX is the current V-Switch threshold. Rock the Expression Pedal forward and press firmly on the toe once to turn the V-Switch on (WAH ON), and again to turn the V-Switch off (WAH OFF). If the V-Switch is too sensitive, press the Up Footswitch to raise the threshold (range is 0-199). The Down Footswitch decreases sensitivity. Keep testing the V-Switch sensitivity and adjust the threshold until it only engages when you want it to. When the V-Switch sensitivity is set to your satisfaction, press Footswitch 5 (Reverb) to exit.
Warning! This procedure will erases all custom User presets and recalibrates the Expression Pedal. So be sure you want to erase the memory and return the RP500 to its factory default state before continuing with this procedure. Hopefully the article of "How To Reset And Calibrate The Expression Pedal Of Digitech RP500" was useful.
Reference: Digitech RP500 Manual