How do I reset the TC Electronic G-System?
|
Basically, the G-System is like any other guitar FX floor unit but with TC effects on board and 5 loops for you to connect your fave pedals up too. Lots of effects and options here. The unit has a unique feature that allows it to be used totally as a floor processor, or the brains of the floorboard can be put in a rackcase for more complicated setups, however making stage setup easier at the sametime. There is also FOUR external loops which you can incorporate your favorite pedals, whether they are chorus things, or preamp drivers or anything else like say a univibe is up to you. What's also very nice is that there are 4 inputs for volume/expression pedals. Two of each to be exact, two on the rack unit and two on the floor unit. So you can have pedals everywhere if that's your thing.
According to several G-System reviewers, some users have praised it for the Good Selection Of Effects; Excellent Build Quality; Superb Floor Controller. Also, some users have complained it for the requirement to buy a device to stop the hum; the dastardly and awful manual.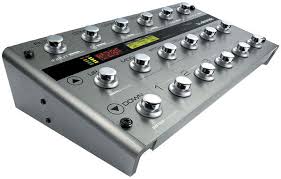 Image source:
long-mcquade.com
Factory Reset:
To restoring the factory settings your G-System, first press the EDIT button and then press MENU button. Select "MENU UTILITY" by using LOOP 3 encoder and press ENTER to enter. Scroll to "CLEAR SYSTEM" parameter and press ENTER. Finally, press ENTER button again to start initialization of the program.
Warning! This procedure will return all of the settings to the values when the GT-PRO was shipped from the factory. Do not use this function unless you are certain that you want to do this. Hopefully the article of "How do I reset the TC Electronic G-System?" was useful.
Reference: G-System support