How do I reset the Clavia Nord Piano?
|
This is the first dedicated stage piano from Nord. Clavia (aka Nord) are based in Stockholm, Sweden, and they've carved out a niche in the keyboard market by offering performance-oriented instruments that probably appeal most to gigging players. The Nord Piano 88 draws on the same sampled piano sound library that Electro 3 and Stage EX owners have enjoyed for a while, but has some unique features and capabilities. The Nord Piano is weighty and solid, yet it's just light enough to be carried by one person out of the box or in a soft case, or by two people in a hard case.
According to several Clavia Nord Piano reviewers, some users have praised it for the Great acoustic piano, Rhodes, Wurly, electric grand, and Clav sounds; Nicely balanced weighted action keys; Can download new sounds from Nord's online Piano Library, and includes full version on DVD; High-quality on-board FX and EQ section. Also, some users have complained it for the No splits or layers; Addition of effects depth control and Nord's analogue style delay would be good; Lack of pitch or mod wheels limits use as a MIDI controller.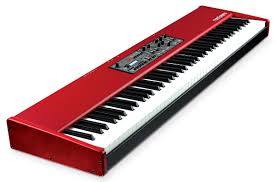 Image source:
soundonsound.com
Factory Reset:
The only way to restoring a Nord Piano to its Factory content by using the Nord Sound Manager and downloading a Restore file. The Restore files are named as Nord MODEL Factory Restore vXX revY. Please click HERE to downloading the Nord Piano Factory Restore file from the Nord website.
To start restoring the Nord Piano, first you should connect your Nord Piano to the computer and launch the Nord Sound Manager. Then, click on the Restore icon in the Nord Sound Manager toolbar and a file browser will appear. Next, locate the downloaded file, select it and click Open. When a message a appears, click Restore to start initialization of the program.
Warning! When you execute this "Factory Reset" procedure, the all the content in the Nord instrument will be irrevocably replaced by the content from the Restore file. Do not turn off the Nord instrument or disconnect the USB connection while restoring is in progress. Be sure that you want to do this. Hopefully the article of "How do I reset the Clavia Nord Piano?" can help you.
Reference: Nord support