Hard Reset Roland TD-4 to Factory Default Condition
|
The TD-4 sound module will gives you a broad range of expressive drum and percussion sounds. With four times the wave memory of its predecessor, the TD-4 is loaded with great drum and percussion instruments and kits. You can easily edit your sounds, allowing you to quickly customize your kits. The first thing to mention about the TD-4 module is the I/O. You have 1/4 inch stereo out, two headphone connections for 1/8 and 1/4 inch headphone connections, MIDI out, as well as your connection for a power supply and the drum pads.
You also get realistic ambience effects to enhance your performances. The module comes loaded with 125 sounds and 25 kit presets so you have plenty of options for sounds. The standout feature here is the tuning and muffling buttons which allow you to customize the sound of each drum on a particular kit. This can be great for stage performances in different rooms that may lack a natural reverb or a room that has too much and requires you to muffle or choke your drums.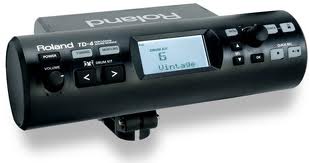 Image source:
musicradar.com
Factory Reset:
To restoring a Roland TD-4 to it's factory settings, first press the MENU button so it's lit. Select "9 OPTIONS," by using the SEL (∧∨) buttons and then press the OK button. Then, select "Factory Reset," and press the OK button. Use the (-/+) dial to select the settings for which you want to execute a factory reset (PADS, SYSTEM, ALL KITS, or ALL) and press the SEL (∨) button. Finally, when a confirmation message appears, press the OK button to start initialization of the program.
Warning! This procedure will returns all settings of all pads and drum kits stored in the TD-4 to their factory-set condition. Do not use this function unless you are certain that you want to do this. Hopefully the article of "Hard Reset Roland TD-4 to Factory Default Condition" can help you.
Reference: Roland TD-4KP manual