Hard Reset Digitech GSP1101 Rack Processor
|
The DigiTech GSP1101 Guitar Effects Processor is not just any ordinary preamp. It's aims to deliver the high level of transparency and quality that working guitarists demand. With over 120 models of amps, cabinets, preamps, and effects including vintage and boutique models, the GSP1101 puts a sonic arsenal at your fingertips. It also load the features balanced XLR outputs for direct recording, USB for programming and direct to computer recording. It comes with a comprehensive software editor-librarian and drivers for USB recording.
According to several user reviews of Digitech GSP1101 Rack Processor, some users have praised it for the good selection of effects; the sounds are good; amazing value and can easily compete with guitar processors that sell for twice its price. But some users also have complaints for the Limited Selection Of Effects; Not Responsive.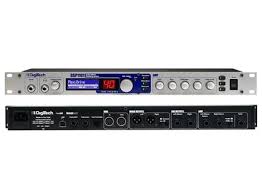 Image source:
soundsliveshop.com
Factory Reset:
To restoring the factory settings of Digitech GSP1101 Rack Processor, first, press the Edit/Select knob (from the Preset screen). Select the "Factory Reset" and Turn the Edit/Select knob until "Restore Factory?" appear on the display and press it.
Warning! This procedure will be erases All changes to presets and other settings. So be sure to back up any information you wish to keep. Hopefully the article of "Hard Reset Digitech GSP1101 Rack Processor" was useful.
Reference: Digitech GSP1101 Manual