Fujifilm F900EXR Solutions to Common Problems
|
Capturing the perfect moment is the important part of photography, even when taking pictures with a compact camera. Therefore, the speed of the autofocus (AF) is the feature that did not escape the attention of producers and consumers. Fujifilm announced the F900EXR compact camera that is claimed to have the world's fastest AF system. Determination automatically focus can be done in just 0.5 seconds. To optimize the speed of AF, the camera automatically switches from phase detection system and Contrast Detection depends on the object and shooting conditions.
F900EXR speed is not limited to the AF system. Image capture capabilities in a row, can be as fast as 11 fps was done. Unfortunately, the speed only last up to 5 frames. Supports the AF speed and continuous shot mode is BSI EXR-CMOS sensor II ½ inch size with a resolution of 16 megapixels. Optimal image results can be obtained through the Auto EXR mode. In that mode, the user can utilize a combination of sensor-CMOSII EXR and EXR Processor II image processor for optimal image results.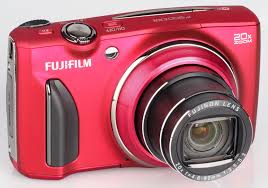 Image source: 
ephotozine.com
Fujifilm F900EXR is equipped with a Fujinon lens 20x optical zoom capabilities (25-500mm). To further the range, this lens features helped achieve a 40x digital zoom. Along with the growing trend in the compact camera market, Fujifilm does not forget to include WiFi connectivity in the F900EXR. Through the "Fujifilm Camera Application" which is available for iPhone, iPad, and Android, the user can transfer photos and videos directly to your smartphone or tablet.
According to several user reviews, they have praised for the Build quality; Design; Fast operational speed; RAW capture; Compact and stylish. Also some user have complained it for the Some key Advanced features hidden in menus; Battery life; Focusing (at longer zoom ratios); Panorama mode image issues; Video lacks detail and too "grainy".
Common Problems:
Problem: card not initialized!
Solution: Reformat the Memory card and then copy the firmware upgrade onto the card again.
Problem: This firmware is not for this model!
Solution: Download the correct firmware upgrade for your camera model, copy it onto the Memory card and then load the card into the camera.
How to Recover Deleted Photos?
Download and install photo recovery software on your computer, for example I use FreeUndelete
Connect your camera memory card to a computer with a card reader
Run the FreeUndelete program
Select the drive you want to restore the file (your camera memory card) and click the SCAN button on the top of the list of drives.
Once the scan is finished the program will display the data that had been removed in the right window. Select the file in the file list to recover, then click Undelete button to restore the deleted data.
Read also "How can I save the photos on Nikon Coolpix S6900" and another user guides. Hopefully the article of Fujifilm F900EXR Solutions to Common Problems useful for you.