Fix a lens error and Recover Deleted Photos on Panasonic Lumix DMC-GM5
|
Panasonic again add the collection line mirrorless interchangeable-lens camera is the latest of a series of GM, which is named the Lumix DMC-GM5. Designed with a body that is compact and stylish, the Lumix DMC-GM5 has a pretty slim size, combined with a frame made ​​of magnesium alloy which gives the impression of quite sturdy and solid.
Equipped with Digital Live MOS sensor resolution of 16 megapixels and the Venus Engine processor, the Lumix DMC-GM5 able to perform the task of image rendering and color reproduction, so as to produce a very sharp image quality. In fact, this camera is able to produce reasonably good images in low light conditions at ISO sensitivity up to 25,600. This camera has been equipped with LVF (Live View Finder) which has a sharp resolution with 1,166K-dot quality with a fairly wide field of view. According to the news we hear, LVF permanently mounted on the Lumix DMC-GM5 has the exact same capabilities with other series Panasonic mirrorless camera, the Lumix DMC-GX7.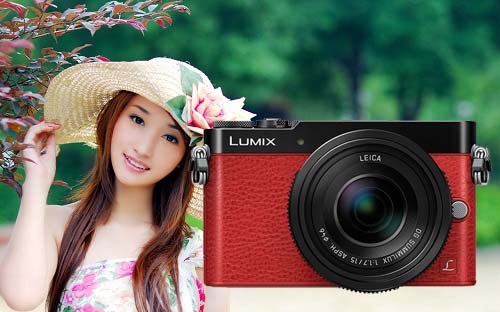 Image source: 
trustedreviews.com
For those who like to capture the special moments with high speed, Lumix DMC-GM5 can do the job with the help of Contrast AF system. This system works by exchanging digital signals between the camera and the lens at the maximum shutter speed of 240fps. So Lumix DMC-GM5 object captures moving images at high speed and more accurate. Various AF capability has equipped this camera, such as Face / Eye Detection AF, AF Low Light, plus Pinpoint AF and One-Shot AF to be able to maximize the use of the Lumix DMC-GM5 in a wide variety of shooting situations.
Additionally, the Lumix DMC-GM5 also can make video capture Full-HD high-resolution measuring 1920 × 1080, 60p in AVCHD progressive and MP4 format with stereo sound quality. In order for the results to a maximum video capture, this camera is equipped with a 3-inch LCD screen with high resolution 920K-dot. Following the trend of today's advanced digital cameras, Panasonic has equipped the WiFi connectivity on the Lumix DMC-GM5 for ease of sharing images via a smartphone or tablet. Additionally, this camera is also equipped with Instant Transfer feature that allows users to automatically transfer photos to a smartphone or tablet after the shooting.
How do I fix a "lens error" on Panasonic Lumix DMC-GM5?
Having a "Lens error" message display on the camera's LCD display indicates a problem with the camera lens mechanism. Usually it is because the entry and exit of the lens mechanism jammed, for example, had fallen, once when the lens is stuck out and vice versa when the lens is pushed entry and so on. But if you have never experienced physical violence usually only lubricating plastic gears that are already dry.
Usually, simply switching the camera Off then On again is enough to correct this problem. Or try to remove the batteries for 5 seconds, and then plug it in again.
If this does not help, then we regret the camera must be sent to our Nikon Service department as there are no user serviceable parts on Panasonic Lumix cameras.
How to Recover Deleted Photos on Panasonic Lumix DMC-GM5?
Download and install photo recovery software on your computer, for example I use PC Inspector Recovery
Connect your Panasonic Lumix DMC-GM5 memory card to a computer with a card reader
Run the PC Inspector Recovery program
You will be required to choose the language in use. After that click on the check image was colored green.
After that you will be required to choose between Recover Delete Files (useful to find a file or folder that is never erased), Find Lost Data (Find the file or folder that is already formatted), Find Lost Drive (Finding Files Drive). Choose Recover Delete Files.
After selecting Recover Delete Files, you will be required to select the drive where your file was never lost. Select your memory card drive, then click the green Tick image to continue.
Then Choose File / Folder that Want in Recovery.
After that, Save File / folder into the directory you want. Then click image wheels, and red Tick mark.
Once saved, create a new folder name. Immediately back into the drive folder you specified earlier, then click the green check mark.
Read also "5 Ways to Recover Deleted Pictures on Polaroid IM1836" and another user guides. Hopefully the article of Fix a lens error and Recover Deleted Photos on Panasonic Lumix DMC-GM5 useful for you.