Factory Setting Reset Digitech Vocalist Live 3
|
This is a Vocal Harmony Processor Pedal from Digitech, that was introduced in 2010 at NAMM. The Digitech Vocalist Live 3 pedal is meant to replace the Digitech Vocalist Live 2 vocal harmonizer and it does a pretty good job. Bring the Vocalist Live 3 with you onstage, and get ready to transform your singer/songwriter performances into harmony-filled masterpieces. The Live 3 automatically follows your vocals and chord progression using patented musIQ technology so you don't have to program a song's key or key changes. Inside, there's a guitar chorus effect and even a tuner. You can also experiment with professional vocal processing to give your vocal sound a first-class shine — dial in the perfect tone using three different reverb settings, five delay settings, a compressor, a 2-band EQ, a low-cut filter, and a noise gate.
According to several user reviews of the Digitech Vocalist Live 3, some users have praised it for the Easy to use; Professional functions; Good audio; Good price. But some users also have complained for the No headphone out; Noisy Footswitch Botton; Digital artefacts and phasing with dual harmonies.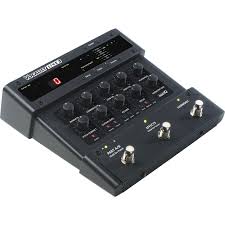 Image source:
music123.com
Factory Reset:
To restoring the factory settings of Digitech Vocalist Live 3, first power on while simultaneously holding the Patch (-) and V1 Voicing (+) buttons until "rE" appears in the display and release the button. Finally, power down the unit. The Factory Reset procedure is complete.
Warning! This procedure will returns the patches and settings to the values when the GT-PRO was shipped from the factory. Hopefully the article of "Factory Setting Reset Digitech Vocalist Live 3" was useful.
Reference: Digitech Vocalist Live 3 Manual