Factory Reset Procedure: VOX DelayLab Delay Pedal Processor
|
Last Updated on June 20, 2022 by Nick
Delay effects are a must for satisfying the individualistic creativity of any guitarist. This is the ultimate delay effect for someone who not only wants a lot of options, but also wants total control over those options. You'll get tape echo to Bucket Brigade to digital delay models. In addition to 30 diverse delay effects, the DelayLab offers a stereo looper that can capture up to 28 seconds, 30 stage-ready programs, and a wealth of extras, all packed into a sturdy diecast body.
According to several user rviews of the VOX DelayLab, some users have praised it for the Easily to program; three delays always available; solid construction; exact millisecond setting, famous song presets. But some users also have complained for the a little big; some delays less than totally authentic.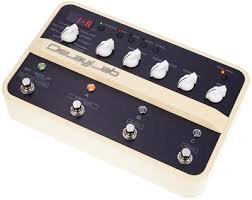 Image source:
thomann.de
Factory Reset:
To restoring the factory settings of VOX DelayLab Delay, first connect a cable to the INPUT (L/MONO) jack and holding the CANCEL button and SYNC button until "Inlt" appears in the displays. Finally press the WRITE button to initialization of the program starts. When reset is complete, "CPLt" will appears in the display. The Factory Reset procedure is complete.
Warning! This procedures will returns all of the settings to the values when the VOX DelayLab was shipped from the factory. So be sure you want to return the VOX DelayLab to its factory default state before continuing with this procedure. Hopefully the article of "Factory Reset Procedure: VOX DelayLab Delay Pedal Processor" was useful.
Reference: VOX DelayLab Manual