2005-2023 Ford Focus Oil Life/Oil Change Required Light Reset Guide
|
Last Updated on September 10, 2022 by Nick
Hello everyone! Today is the day I decided to do an oil change on my Ford Focus, and also, I'm going to show you how to reset the oil life light. Mine has a came on yet, but I figured I'd make content and show you how it's done anyway.
So I make this tutorial for people who are just getting in the cars or are sick of paying somebody to do this. I hope I helped you out, and this can be transmitted through pretty much any vehicle. So let's go ahead now and try it for ourselves.
2005-2018 Ford Focus Oil Change Required Light Reset Guide
Time needed: 3 minutes.
Alright, I'm inside my 2012 Ford Focus and change the oil on it. And now I'm going to show you how to reset. Basically, it is done on the floor; you have your brake pedal and the gas pedal. So let me do that right now.
Turn on the ignition without starting the engine

Turn your key fully forward but not turn the engine. If your car has an ignition button, press the START/STOP button once without stepping on any pedal

Step on the GAS and BRAKE pedals simultaneously and hold it

Then what you need to do is take your Brake and Gas pedal and hold it to the floor and just wait a minute until you see it says Service Oil Reset in Progress

Keep holding both pedals

Continue to hold at it take up the 20 seconds and it'll reset and there you have it service oil reset completed

Release the pedals

Now you can release the pedals and now your vehicle is ready to count down your kilometers or mileage to your next oil change
2019-2023 Ford Focus Oil Life Reset Procedure
Alright, I got my 2019 Ford Focus here and I'll show you how to reset the service light or the oil life reminder whatever you want to call it. So let's do it.
With Small Dash Screen
Push the START button to start up without actually starting the engine
Then you go up or down the menu until you get ⚙️ SETTINGS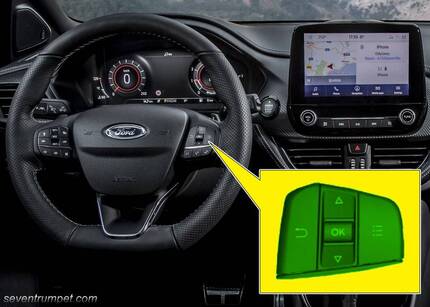 Next, push the ☰ MENU button to enter the submenu
Now I'm going to INFORMATION and push OK
After that, you just scroll up down until you get to where it says OIL LIFE
To reset it you just simply hold down the OK button and you'll successfully reset
With Large Dash Screen
Put on the ignition
Hit the ☰ MENU button to bring you to the main menu
Go to the SETTINGS ➔ VEHICLE ➔ OIL LIFE
Once you arrive at the Oil Life screen you need to hold the OK button down to reset it
For your info, this operation work for the second, third, and fourth generations of the Ford Focus (2005, 2006, 2007, 2008, 2009, 2010, 2011, 2012, 2013, 2014, 2015, 2016, 2017, 2018, 2019, 2020, 2021, 2022, and 2023 model years).
Is Ford oil life indicator important?
The benefits of the intelligent oil life monitor are many. It improves customer convenience due to less frequent service visits. Reduces cost of ownership with a long time and mileage intervals. Between changes, it supports greener miles environmental strategy. With less oil to dispose of and more accurate change cycles since modern engine oils last longer, significant engine technology improvements have reduced oil consumption.
For more information on maintenance, please refer to the scheduled maintenance guide, which is now included in the owner's handbook. It provides information on mileage-based maintenance like spark plugs, air filters, and special operating conditions. Some 2011 vehicles offer an oil monitor system that behaves slightly differently than the intelligent oil life monitor but still has the same great benefits.
The oil monitor system uses a one-year timer or 10,000 miles, whichever comes first, to determine when to change the oil. The OMS is not gathering engine operating conditions like the intelligent oil life monitor.
Your vehicle system may operate differently. For additional information, please refer to the owner's guide. It includes mileage-based maintenance like spark plugs, air filters, and special operating conditions. So spend fewer visits for service and more time on the road without worrying about the intelligent oil life monitor or the oil monitor system. You won't have to be mindful of mileage and time because your vehicle will do that for you.
FAQ – Ford Focus Engine Oil
In a Ford Focus, how much oil can you put in it?
Your Focus's four-cylinder 2.0-liter engine takes an oil capacity of 4.5 quarts or around 4.3 liters.
What oil does a Ford Focus use?
Motorcraft SAE 5W-20 Synthetic Blend Motor Oil is one example of 5W-20 engine oil that will work well in a Ford Focus. However, you may find the correct oil for your vehicle in the owner's handbook.
Is it cheaper to DIY oil change?
Aside from the financial and practical benefits, learning to change your own oil is also a terrific opportunity to get to know your car better. Depending on the seller, 5W-20 oil costs anywhere from $4 to $12 each quart and $10 to $40 every five-quart container.
So that's the whole procedure, guys. If this information was helpful to you, do me a favor and leave me a comment and let me know what you think. So thanks for your time, and have a good day.