Dean Dave Mustaine VMNT Angel of Death Electric Guitar Detail Specs And Reviews
|
Dean Guitars is an American manufacturer of guitars. It was collaborated with an American musician, he who best known as the founding guitarist-vocalist of the American thrash metal band Megadeth "Dave Mustaine" on December 6, 2006. His first signature guitar (Dean VMNT) was revealed during NAMM Show on January 19, 2007. And now they proudly presents the Dean Dave Mustaine VMNT Angel of Death Guitar.
The specs on this guitar are pretty similar to his ESP signature V before this and the old Jackson King V before that. It has The beveled mahogany body has a custom blood-spattered "Angel of Deth" graphic for a Mustaine-inspired mix of the hellacious and holy. This baby comes loaded with screaming Dave Mustaine Live Wire USA custom active pickups and several other performance enhancing features. Let's see the detail specs of this guitar.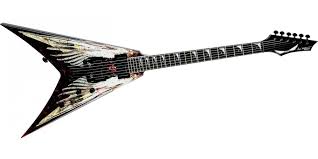 Image source: gtrmusic.co.uk
Mahogany Top / Body
25-1/2″ Scale
1-11/16″ Nut
Dave Mustaine Spec. Set Mahogany
"D-Shaped" Neck
Ebony Fingerboard
Pearl Mustaine Inlays
Mini Grover Tuners
Black Hardware
Tune-O-Matic Bridge
Dave Mustaine Duncan Live Wire Pickups
Hardshell Case Included
Finishes: "Angel of Deth" Graphic
Build:
Dave Mustaine VMNT Angel of Deth is one of the premier models in Dave Mustaine signature series made by Dean Guitars. The only differences between this one and what he plays is his is USA made and this one's made in Korea. It has a mahogany body with a neck through mahogany neck. Body style is based on a Jackson king v, and it has a crazy angel paintjob that looks like something out of Assassins Creed or Constantine. It is painted on the blood red background and finished in high gloss. Very cool!
The special D-shaped set mahogany neck has Dave raving that it may be his favorite neck ever, with a 25.5″ scale ebony fingerboard and dot/sharktooth combo inlays. The neck is smooth and fast, and all the frets are within easy access. It has a very soft V profile to the neck that comes from the Dean DNA.
Pickup:
This axe of darkness comes armored with screaming Dave Mustaine Live Wire USA active humbuckers. This pickups were some of the first active pickups Seymour Duncan made. These pickups retain the basic feel and quality of the JB/Jazz setup and adds a clarity and high gain composure to the sound. They'll give you a solid sound that loves overdrive as well as clean amp settings. They are hotter than EMG's or Blackouts for me. And you can get a lot of different lead tones from the neck position by using the tone and volume control.
Hardware:
Up top on the headstock there are Grover tuners and the bridge is Tune-O-Matic unit with a string thru body. The guitar comes stock with straplocks which are cool. The hardware looks will last for a long time is is rough and rugged metal that is meant to last. The strap buttons are jim Dunlop strap locks so they will hold your strap on great and if it falls off then you musnt have put it on correctly.
Watch the reviews video of Dean Dave Mustaine VMNT Angel of Death Guitar
Overall this is a cool guitar!  The paintjob on this guitar is pretty much what makes it special. The hardware is black and looks and feels solid no need to worry about tarnish. The guitar is mostly set up for metal obviously but it does do some quite nice clean tones aswell but it does not look the part for classical or jazz playing styles so really it should stick to metal or rock playing. The price of Dean Dave Mustaine VMNT Angel of Death Electric Guitar is about $999.99
Hopefully the article of "Dean Dave Mustaine VMNT Angel of Death Electric Guitar Detail Specs And Reviews" was useful. Read also another guitars reviews article such as Dean Dime USA Razorback V Guitar Detail Specs And Reviews and many more only on SevenTrumpets.
Reference:
chorder.com
audiofanzine.com
ultimate-guitar.com