Ampeg SVT-810E Bass Enclosure Overview
|
Bassist in the world must be very familiar with is amplifier products. Ampeg that stood since 1969 is known to be very indulgent ago the bassist the world, especially in the affairs of sound. One of the international bassist, who faithfully use them is Robert Trujilo of Metallica until today still rely on Ampeg products around the stage schedule.
Ampeg SVT 80 E, the cabinet most often graced the stages of the world. Due to large size and high, Ampeg SVT 80 E's earned the nickname "The Fridge" by the bassist world. With Infinite Baffle design that has not changed since 1969 making it always seem classic and legendary. This cabinet is fairly sturdy and durable, with a wood base materials Plywood birch Baltic which makes it very sturdy and durable. Very fit for the benefit of a long tour. Thump sound it produces is very powerful, punchy, round and gives low vibration sound very solid.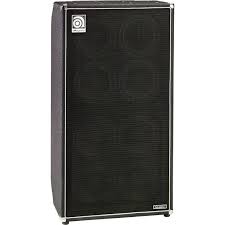 Image source: 
dv247.com
Ampeg SVT 80 E comes with 8 speakers 10inch size that ensures sound results with extra volume and a very safe under any conditions in the stage, plus be able to react more quickly than the speaker size 15 "or 18". The result was a thumping bass sound can be felt by players and spectators. So with embedded handle and wheels, making easy operation on stage, moveable without requiring a large force.
Tech Specs:
| | |
| --- | --- |
| Speaker Size | 8 x 10″ |
| Power Handling | 800W & 400W (stereo) |
| Impedance | 4 ohms & 8 ohms (stereo) |
| Cabinet Type | Straight |
| Construction Materials | Baltic birch |
| Inputs | 1/4″ & speakON |
| Outputs | 1/4″ & speakON |
| Height | 48″ |
| Depth | 16″ |
| Width | 26″ |
| Weight | 165 lbs. |