2016-2019 Acura TLX Oil Maintenance Service Due Light Reset
|
2016-2019 Acura TLX Oil Maintenance Service Due Light Reset – Acura TLX is a mid-range passenger car produced by the Japanese automotive concern Honda Motor Company under the American brand Acura from July 2014. The car was officially presented for the first time during the Detroit motor show in January 2014. At the same time, the car replaced two models – the popular TL limousine and the Acura TSX based on the European Honda Accord.
The production version of the vehicle was presented a few months later during the automotive exhibition in New York. To drive the vehicle design built a new engine with direct fuel injection with a capacity of 2.4 liters and power of 204 hp and a 3.5 liter V6 with system disconnecting half of the cylinders with a capacity of 290 hp. Both units have received a set of four pivotable wheels, and a more powerful engine modern four-wheel drive and the possibility of driving mode (IDS) with four options: ECON, Normal, SPORT and SPORT +.
2016-2019 Acura TLX Oil Maintenance Service Due Light Reset:
To Reset Oil Life Maintenance Service Due to Minder Light on 2016 2017 2018 2019 Acura TLX, conform to the following instructions:
Close all door and turn the ignition key to position "ON" (II) without starting the engine, If your vehicle has a Smart key button, press the "Start" button twice without touching the brake pedal.
By using the Right Selector Wheel located on the steering wheel select the "Vehicle Settings", and then press the button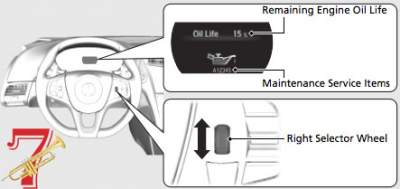 Then select "Maintenance Info"
Select RESET by using the right selector wheel
Press the Right Selector Wheel to confirm reset
For more details please watch the following video:
This procedure should apply to the latest generation of the Acura TLX (2016 2017 2018 2019 models). Hopefully, the article of 2016-2019 Acura TLX Oil Maintenance Service Due Light Reset useful for you. Good Luck!