2016-2018 Lexus LX 570 Oil Maintenance Required Light Reset
|
2016-2018 Lexus LX 570 Oil Maintenance Required Light Reset – Lexus LX is a large cross-country 4WD model that is being sold from the luxury car brand "Lexus" developed by Toyota Motor Corporation. In Japan, the model equivalent to the 2nd generation model of LX was sold by the Toyota brand as Land Cruiser's advanced grade "Land Cruiser Signas". In 2007, it changed to the third generation "LX 570". As the car name suggests, the V 8-cylinder engine was replaced with a newly developed 5.7 L 3UR-FE type.
Partial improvement on August 3, 2017. In addition to the conventional seven-passenger specification, a new five-seater specification of the two-row seat is newly set. In place of "White Pearl Crystal Shine" the body color was changed to "Sonic Quartz" of new setting color, and the design of 18 inches and 21-inch aluminum wheels was changed. On the equipment side, hitch member for fitting a trailer hitch tow trailer etc, door mirror feet lighting, 'nano is' as standard equipment.
2016-2018 Lexus LX 570 Oil Maintenance Required Light Reset:
To turning off the Oil Change Maintenance Required Light on 2016 2017 2018 2019 Lexus LX 570, conform to the following instructions:
Turn the ignition key to position "ON" (II) without starting the engine, If your vehicle has a Smart key button, press the "Start" button twice without touching the brake pedal.
Select  on the multi-information display using the navigation button (located on the steering wheel)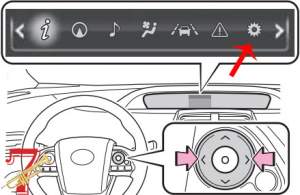 Scroll down and highlight VEHICLE SETTINGS  and then press Middle button to select it
Select "Scheduled Maintenance" or "Oil Maintenance"
When a confirmation dialog appears, select "YES" and then press Middle button to confirm
For more details, please watch the following video:
This procedure should apply to the latest generation of the Lexus LX 570 (2016 2017 2018 2019 models). Hopefully, the article of 2016-2018 Lexus LX 570 Oil Maintenance Required Light Reset useful for you. Good Luck!