2016-2018 Lexus GS450h Oil Maintenance Light Reset
|
2016-2018 Lexus GS450h Oil Maintenance Light Reset – In March 2006, added the first hybrid specification "GS 450 h" as a Japanese Lexus brand car. GS450h, which became the world's first FR hybrid car, incorporates a motor developed exclusively for FR cars into a 3.5-liter 2GR-FSE type V6 engine that is also installed in the GS 350, in the transmission case, and the total system It generates 345 ps at the output (the foundation of this hybrid system is later being converted to "LS 600 h", Toyota "Crown Hybrid" etc.).
Unlike fuel-efficient hybrids like Toyota "Prius", as a power-oriented hybrid using a motor like a turbocharger, it is a feature of the GS 450h that emphasizes running more than fuel economy. Although the displacement of the engine is 3.5 L, it is named "450 h" in the sense that "the power equivalent to that of the 4.5 L engine was realized". In December 2012, Saddle Tan interior of GS 450 h won the Autocola Designer's Selection and Interior Division at Auto Color Award 2013.
2016-2018 Lexus GS450h Oil Maintenance Light Reset:
To turning off the Oil Change Maintenance Required Light on 2016 2017 2018 2019 Lexus GS450h, conform to the following instructions:
Turn the ignition key to position "ON" (II) without starting the engine, If your vehicle has a Smart key button, press the "Start" button twice without touching the brake pedal.
Select  on the multi-information display using the navigation button (located on the steering wheel)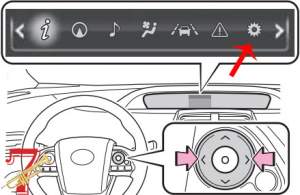 Scroll down and highlight VEHICLE SETTINGS  and then press Middle button to select it
Select "Scheduled Maintenance" or "Oil Maintenance"
When a confirmation dialog appears, select "YES" and then press Middle button to confirm
For more details, please watch the following video:
This procedure should apply to the latest generation of the Lexus GS450h (2016 2017 2018 2019 models). Hopefully, the article of How to Reset Maintenance Light on Toyota Prius (2016-2018) useful for you. Good Luck!