2017-2020 Chevy Sonic Oil Life/Oil Change Light Reset Guide
Last Updated on September 19, 2022 by Nick
Hello there, Chevy fam! Today we have some essential maintenance on a 2017 Chevy Sonic with a 1.8-liter engine, and we're going to be resetting the oil life or oil change light. To do an oil change and reset the system in a mobile home park that's where I do everything at this.
This guide will give you the ability to be able to reset the oil life on your own. I'm not trying to denounce any shops out there, but you know if something can go wrong, and you can do it yourself if you don't want to take that risk. So let's dive right in.
2017-2020 Chevy Sonic Oil Change Light Reset Guide
First, put on the ignition
Then hit the MENU button one time to get the Vehicle Information menu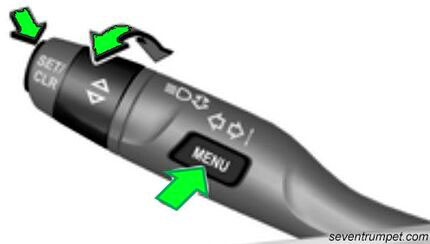 Next, use the thumbwheel to scroll through until you get to the Oil Life percentage
Once that shows you the oil life, use the SEL/CLR button and hold it until it shows a hundred percent
Resetting Oil Life With Up Level Display
Time needed: 3 minutes
So we're in a Chevy Sonic, and we're going to be resetting the oil light, and it's pretty simple on this one. Same as with the base-level display, we will utilize the button on the turn signal lever to do this. So let me do that right now.
Go into the cab and turn it on without starting the engine

Just turn the dash on and you don't have to start the car up. So press the START button for 5 seconds but don't press the brake

Go to the VEHICLE tab menu

Then you're going to press the MENU button to go to the VEHICLE tab


Find the OIL LIFE screen

Next, you go ahead and scroll down by using the thumbwheel until you got the Oil Life screen

Hold down the SET/CLR button

Once you get there you're going to press and hold the SEL/CLR button until it gives you the prompts 

Select YES

To reset it you scroll up with the thumbwheel to highlight YES and then you press the SEL/CLR button again and it's already at a hundred
For your info, this operation work for the second generation of the Chevy Sonic (2016, 2017, 2018, 2019, and 2020 model years). For the older ones, you can reach it here.
What is the oil life indicator based on?
The oil life monitoring system is a standard feature in modern Chevrolet vehicles. It calculates the years until your car needs an oil change by tracking the engine's speed, operating temperature, and driving habits. It also helps protect the engine from excessive wear and tear. However, there are some requirements you must meet before installing this system.
This system uses a computer-based algorithm to determine when your vehicle needs an oil change. It also considers your driving style and other factors. The system also gives you a recommended time to change your oil. This is vital for your safety and the resale value of your vehicle.
The GM Oil Life Monitoring System automatically adjusts the oil change interval for you. This allows you to maximize the number of miles between oil changes. It will notify you to change the oil every six hundred miles. If you frequently drive on the highway, you may need to change the oil every 7000 to 8500 miles.
The oil life monitor on the Chevy Sonic can be reset to a higher number of miles. However, if you only make short trips, the monitor's accuracy may not be as high. Using this device is a better alternative than wasting motor oil. Most motorists do not realize how long they drive without changing their oil.
The GM Oil Life System calibrates your needs based on the oil you use in your Chevy Sonic. However, you should consult your owner's manual to ensure the correct oil viscosity.
FAQ – Chevy Sonic Engine Oil
What type of oil does a 2019 Chevy Sonic use?
The 1.4L Turbo engine in the 2019 Chevy Sonic should be lubricated with 5W-30 synthetic motor oil in all situations, and with 0W-30 at temperatures below -20 degrees Fahrenheit.
What is the 2018 Chevy Sonic oil capacity?
With a filter, the 2018 Chevy Sonic can hold 4.2 quarts of engine oil, and the recommended drain plug torque is 10.3 foot-pounds.
So that's all I got for you today. If you have any questions or comments you want or compared with anything, send me an e-mail. I'll be more than happy to talk to anybody about anything. Please share if you would, and as always, thank you for your time. I'm out, bye.