2016-2017 Acura RLX Oil Maintenance Due Minder Light Reset
|
2016-2017 Acura RLX Oil Maintenance Due Minder Light Reset – Acura RLX upcoming flagship sedan of Honda which will be marketed under the brand Acura, debuted in 2012 at the Los Angeles Auto Show. RLX replaces the previous Acura RL. The new model offers an improved steering system and an updated all-wheel-drive system. In November 2017, an updated model with a changed front section was presented. The RLX currently has only one engine – the 3.5-liter six-cylinder V-shaped gasoline unit of the J35Y4 series with a power of 310 hp.
RLX comes with the new AcuraLink® system, with two LCD displays – the 8-inch navigation and 7-inch touchscreen, the Acura / ELS audio system, adaptive cruise control, Start-Stop and Agile Handling Assist systems, as well as other functions and assistants. Also, for the first time, the car got an electronic parking brake and a help system when starting up the hill. As a concept car, RLX has the design of the front optics 'Jewel-Eye' – multisection LEDs, first used in cars Acura.
2016-2017 Acura RLX Oil Maintenance Due Minder Light Reset:
To Reset Oil Life Maintenance Service Due Minder Light on 2016 2017 Acura RLX, conform to the following instructions:
Close all door and turn the ignition key to position "ON" (II) without starting the engine, If your vehicle has a Smart key button, press the "Start" button twice without touching the brake pedal.
By using the Right Selector Wheel located on the steering wheel select the "Vehicle Settings", and then press the button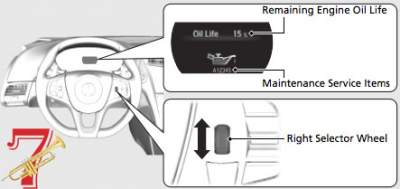 Then select "Maintenance Info"
Select RESET by using the right selector wheel
Press the Right Selector Wheel to confirm reset
For more details please watch the following video:
This procedure should apply to the latest generation of the Acura RLX (2016 2017 models). Hopefully, the article of 2016-2017 Acura RLX Oil Maintenance Due Minder Light Reset useful for you. Good Luck!