2015-2019 Suzuki Baleno Oil Change Light Reset
|
2015-2019 Suzuki Baleno Oil Change Light Reset – Suzuki Baleno is a five-door compact hatchback that was developed by the Japanese Suzuki company since 2016 and is manufactured by the subsidiary Maruti Suzuki. It should be noted that this car name has also been used in Suzuki Esteem (Europe, Australia, and some Asian countries), the second generation Suzuki Liana (Indonesia, four-door sedan), and other models.
In the 85th Geneva Motor Show, which opened on March 3rd, the original "iK-2" concept car was officially released. The Suzuki Baleno, which was mass-produced at the Frankfurt Motor Show opened on September 15th, was formally released. This car is designed to fill the gap between Swift and SX4, and to enter the subcompact (B segment) hatchback market with newly developed chassis and newly developed power.
2015-2019 Suzuki Baleno Oil Change Light Reset:
To reset the Oil Change Light on 2015 2016 2017 2018 2019 2020 Suzuki Baleno, conform to the following instructions:
Turn the ignition to the ON position without starting the engine.
There are 2 knob buttons on the dash, push the right one (TRIP button) about 3-4 seconds, to enter the SETTING mode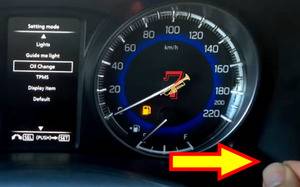 Scroll down by turning the knob, and select OIL CHANGE
Select RESET OC and keep hold the button until it says "Successful"
Turn the ignition off and then start the engine to verify the indicator has been reset.
For more details, please watch the following video:
This procedure should apply to all of the Suzuki Baleno (2015 2016 2017 2018 2019 2020 model years). Hopefully, the article of 2015-2019 Suzuki Baleno Oil Change Light Reset useful for you. Good Luck!