2014-2019 Kia Carens Oil Service Required Light Reset
|
2014-2019 Kia Carens Oil Service Required Light Reset – Kia Carens – model car manufacturer Kia Motors, which is sold in North America under the name of Rondo. The first model was available in mid-December 2000. The model of the second generation joined the offer at the end of 2002., In 2006. Presented the third generation of the Kia Carens. In the spring of 2013. Went to sell the fourth generation. Kia Carens fourth generation was introduced in 2012 at the International Motor Show in Paris. Carens fourth generation was built on a new platform and has been designed completely from scratch.
Aerodynamic figure and design "cab forward", ie post "A" shifted over the front wheel axle, giving it lightness and dynamics. Carens is one of the smallest vehicles in its class. 4545 mmm measured the length and about 20 mm shorter, smaller in width and 15 mm to 40 mm lower than its predecessor. The total amount of new minivans to 1650mm. In Europe, Kia Carens are available with two petrol engines and one diesel engine in two power levels. Petrol engines 1.6 GDI 135 hp and the 2.0 GDI 166 hp. While the diesel engines are 1.7 CRDi 115 hp or 136 hp 1.7 CRDi. CO2 emissions were reduced significantly compared to the previous ones. In January 2014, the car was awarded the title of Best in Class awarded periodically safest vehicles last year by Euro NCAP.
2014-2019 Kia Carens Oil Service Required Light Reset:
To turning off the Service Warning Message on the 2014 2015 2016 2017 2018 2019 Kia Carens, conform to the following instructions:
When you turn on the engine and see "Service required" on the screen, press the MOVE button located at the steering wheel for more than 1 second.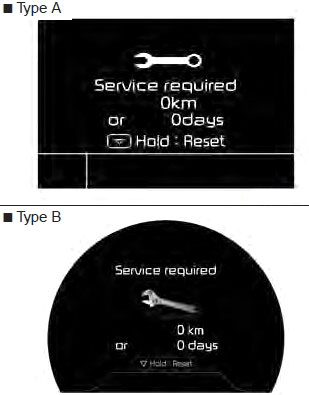 With this, the service interval will be reset to default settings. But you have to activate and set the service interval feature by accessing the INFORMATION menu.
To access the Information menu, press the MODE button (icon rectangle) on the steering wheel.
Highlight the INFORMATION menu.
Press MOVE button to access the menu and use the directional keypad to turn the SERVICE INTERVAL mode on and set the applicable interval.
Turn the ignition off and then start the engine to verify the indicator has been reset.
For more details, please watch the following video:
This procedure should be work on the latest model of Kia Carens (2014 2015 2016 2017 2018 2019 model years). Hopefully, the article of 2014-2019 Kia Carens Oil Service Required Light Reset useful for you. Good Luck!