2013-2018 Mercedes Benz SL-450 SL550 Service Due Light Reset
|
2013-2018 Mercedes Benz SL-450 SL550 Service Due Light Reset – The Mercedes-Benz R 231 is a roadster of the German car manufacturer Mercedes-Benz. It represents the sixth generation of the SL-Class and replaces the eleven-year-old predecessor R 230. The vehicle was first presented to the world public on 15 December 2011. It celebrated its official world premiere at the North American International Auto Show in January 2012 and reached the European market on March 31, 2012.
In contrast to the previous model changes of the SL-Class, the replacement of the R 230 by the R 231 does not entail such radical changes as it did when the R 230 was released in 2001. The classic proportions of a roadster, which make up a long bonnet and a short tail, were retained even in the seventh generation. At the front is the radiator grille, which is no longer optically integrated into the bonnet, but designed separately, now upright.
2013-2018 Mercedes Benz SL-450 SL550 Service Due Light Reset:
To reset Service Interval Warning Light on 2013 2014 2015 2016 2017 2018 2019 Mercedes Benz SL-450 SL550, conform to the following instructions:
Close all doors, windows, hood and trunk
Turn the ignition to the position 1 (If your vehicle has a Smart key button, press the "Start" button once without touching the brake pedal)
Press the system selection button (house icon located on the left of the steering wheel) repeatedly until the menu item TRIP is highlighted in the multi-function display. Within 5 seconds, press the OK button.
Press and hold the  (ACCEPT CALL) button for a second
While holding the  (ACCEPT CALL) button press and hold the OK button.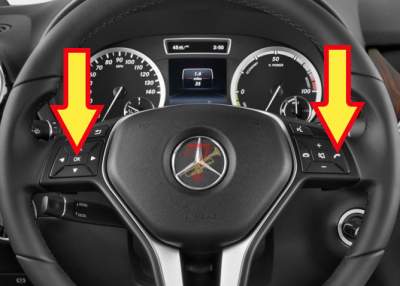 After several seconds the service menu should come up.
Scroll down and select the ASSYST PLUS
Turn the ignition to the ON position (position 2 or press the "Start" button once again) without starting the engine
Select FULL SERVICE
Scroll down to select CONFIRM SERV
Select appropriate OIL GRADE being used
Select YES and confirm it
Turn the ignition off and then start the engine to verify the indicator has been reset.
For more details, please watch the following video:
This procedure should apply to the third generation of Mercedes Benz SL-450 SL550 (2013 2014 2015 2016 2017 2018 2019 model years). Hopefully, the article by 2013-2018 Mercedes Benz SL-450 SL550 Service Due Light Reset can solve your problem. Good Luck! 😀