2013-2018 Mercedes Benz G63 G65 AMG Service Due Light Reset
|
2013-2018 Mercedes Benz G63 G65 AMG Service Due Light Reset – The G-Class (or G-model, G stands for off-road vehicles) is a model series of Mercedes-Benz, which is produced since 1979. By July 2017, Mercedes-Benz had built more than 300,000 vehicles. Older, well-groomed models are already traded to connoisseur prices in the classic scene. On June 30, 2012, a facelift that brought especially a heavily revised interior with itself took place.
The engines used on the one hand were the familiar engines in the G 350 BlueTEC and G 500, while on the other two new AMG models were added, replacing the G 55 AMG. The 5.5-liter V8 twin-turbo in the G 63 AMG produces 400 kW (544 hp), the G 65 AMG with a six-liter V12 twin turbo petrol engine 450 kW (612 hp). These AMG models differ from the conventional models with a double-louver grill and bumpers with larger air intakes.
2013-2018 Mercedes Benz G63 G65 AMG Service Due Light Reset:
To reset Service Interval Warning Light on 2013 2014 2015 2016 2017 2018 2019 Mercedes Benz G63 G65 AMG, conform to the following instructions:
Close all doors, windows, hood and trunk
Turn the ignition to the position 2 without starting the engine
Press the system selection button (house icon located on the left of the steering wheel) repeatedly until the menu item TRIP is highlighted in the multi-function display. Within 5 seconds, press the OK button.
Press and hold the  (ACCEPT CALL) button for a second
While holding the  (ACCEPT CALL) button press and hold the OK button.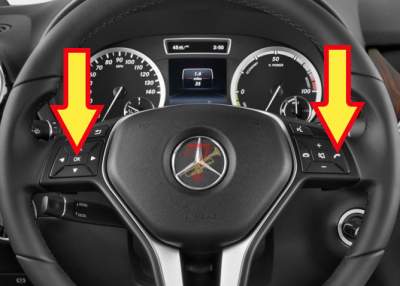 After several seconds the service menu should come up.
Scroll down and select the ASSYST PLUS
Select FULL SERVICE
Scroll down to select CONFIRM SERV
Select appropriate OIL GRADE being used
Select YES and confirm it
Turn the ignition off and then start the engine to verify the indicator has been reset.
For more details, please watch the following video:
This procedure should apply to the second generation of Mercedes Benz G63 G65 AMG (2013 2014 2015 2016 2017 2018 2019 model years). Hopefully, the article by 2013-2018 Mercedes Benz G63 G65 AMG Service Due Light Reset can solve your problem. Good Luck! 😀