2013-2017 Kia Rondo Service Required Light Reset Guide
|
2013-2017 Kia Rondo Service Required Light Reset Guide – The Kia Rondo / Carens is a compact minivan of the South Korean manufacturer Kia Motors, launched in 1999. In 1999, Kia Motors embarked on a thriving segment of compact MPVs. The Kia Carens inaugurates a new platform that will later use the Hyundai Trajet. Its design will be strongly influenced by the Toyota Picnic. Called Rondo in North America and Australia. A restyling was carried out between 2002 and 2006 before the renewal of the MPV. The bodywork has been modernized as well as the headlights, grille and taillights. The bumpers disappeared.
The second generation of Rondo / Carens arrived in 2006. In Europe, he had the heavy task of placing himself at the level of the stars of the compact MPV segment including the Renault Scénic and the Citroën Xsara Picasso. At the beginning of 2013, the third generation was launched, incorporating the stylistic codes of the European MPVs and offering a choice of 5 or 7 seats. For the European market, two GDi petrol engines (1.6 L – 135 hp and 2.0 L – 177 hp) and one CRDi diesel engine (1.7 L – 115 and 136 hp) are available.
2013-2017 Kia Rondo Service Required Light Reset Guide:
To turning off the Service Warning Message on the 2013 2014 2015 2016 2017 Kia Rondo, conform to the following instructions:
When you turn on the engine and see "Service required" on the screen, press the MOVE / Reset button located at the steering wheel for more than 1 second.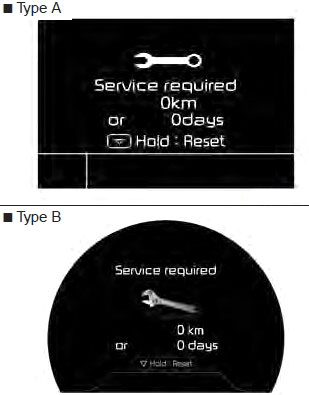 With this, the service interval will be reset to default settings. But you have to activate and set the service interval feature by accessing the INFORMATION menu.
To access the Information menu, press the MODE button (icon rectangle) on the steering wheel.
Highlight the INFORMATION menu.
Press MOVE button to access the menu and use the directional keypad to turn the SERVICE INTERVAL mode on and set the applicable interval.
Turn the ignition off and then start the engine to verify the indicator has been reset.
For more details, please watch the following video:
This procedure should be work on the latest model of Kia Rondo (2013, 2014, 2015, 2016, 2017) models. Hopefully the article of 2013-2017 Kia Rondo Service Required Light Reset Guide usefull for you. Good Luck!