2012-2018 Mercedes Benz G-Class G550 Service Due Light Reset
|
2012-2018 Mercedes Benz G-Class G550 Service Due Light Reset – The G-Class (or G-model, G stands for off-road vehicles) is a model series of Mercedes-Benz, which is produced since 1979. In its basic form, the vehicle was hardly changed between 1979 and 2018, but technically it was constantly being improved and updated. These concerned mainly engine variants, the interior and safety features. In 2018, Mercedes-Benz presented a new generation.
On June 30, 2012, a facelift that brought especially a heavily revised interior with itself took place. While on the exterior all W 463 models now have LED daytime running lights mounted underneath the headlights and have been redesigned side mirrors, the interior features a completely redesigned center console and instrument panel. The latter comes from the ML (W 166).
2012-2018 Mercedes Benz G-Class G550 Service Due Light Reset:
To reset Service Interval Warning Light on 2012 2013 2014 2015 2016 2017 2018 2019 Mercedes Benz G-Class G550, conform to the following instructions:
Close all doors, windows, hood and trunk
Turn the ignition to the position 2 without starting the engine
Press the system selection button (house icon located on the left of the steering wheel) repeatedly until the menu item TRIP is highlighted in the multi-function display. Within 5 seconds, press the OK button.
Press and hold the  (ACCEPT CALL) button for a second
While holding the  (ACCEPT CALL) button press and hold the OK button.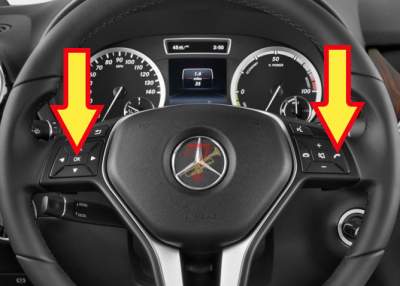 After several seconds the service menu should come up.
Scroll down and select the ASSYST PLUS
Select FULL SERVICE
Scroll down to select CONFIRM SERV
Select appropriate OIL GRADE being used
Select YES and confirm it
Turn the ignition off and then start the engine to verify the indicator has been reset.
For more details, please watch the following video:
This procedure should apply to the latest generation of Mercedes Benz G-Class G550 (2012 2013 2014 2015 2016 2017 2018 2019 model years). Hopefully, the article by 2012-2018 Mercedes Benz G-Class G550 Service Due Light Reset can solve your problem. Good Luck! 😀