2004-2021 VW Volkswagen Golf Oil Service/Inspection Light Reset Guide
|
Last Updated on June 7, 2022 by Nick
Hey everyone. Today we are in the VW Volkswagen Golf GTI, and I'm going to show you how to reset the service or inspection light and the oil change reminders in this car. You can use your multimedia screen to check the distance and time to your next inspection and oil change.
We just did the full service on this car, and the oil change is already. So now we need to reset the service interval. I'm going to show you how to do it without diagnostic tools. You can use the VCDs or other stuff, but you do not need those devices to reset those two reminders. So let's check this out.
VW Volkswagen Golf Oil Service/Inspection Light Reset Guide
For your info, this operation work for the VW Volkswagen Golf MK5 MK6 MK7 MK8 (2004, 2005, 2006, 2007, 2008, 2009, 2010, 2011, 2012, 2013, 2014, 2015, 2016, 2017, 2018, 2019, 2020, 2021 model years).
2004-2008 VW Golf (MK5)
In this section, I'm going to show you how to reset the service interval on a Volkswagen Golf. This is for a Mark 5 2007 model.
With the ignition off hold the 0.0 button down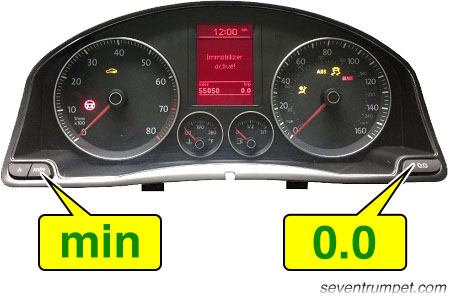 Keep it held down while turning on the ignition
After that, you should letting go off the 0.0 button and then going over to the MIN button and holding it down
2009-2012 VW Golf (MK6)
There are several ways to do a service reset on the Golf MK6. It all depends on your vehicle trim level.
With Basic Display
Time needed: 3 minutes.
So if you look now, when we put a key in the ignition and turn it on, you will see after a few seconds here it will say Service Now, and we want to remove that because we have just serviced this VW Golf. Alright, so what we have to do is:
Turn off the ignition

The first step is to get into your car and turn off the engine

Press and hold the 00/SET button and then turn on your car

While you hold it first turn the ignition key to the on position or press the START button without step on the brake pedal


Press the ❏ button

When the ignitions on we're going to release the 0.0 button and then we're going to go over and we're going to hold down the ❏ button and that should then reset the service interval

Now let's turn off the ignition and see if that service light has gone

Done!
With Premium Display 1
First thing you want to do is turn the key on
Then use the controls on the steering wheel to go either to the left to the right it really doesn't matter and so you get to the SETTINGS screen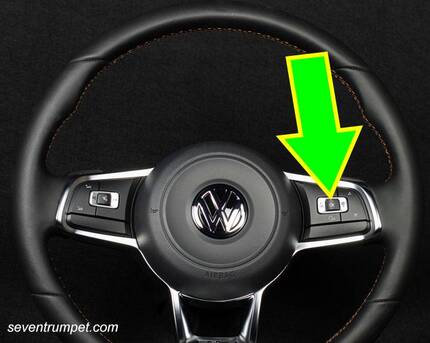 Now once you're to the settings screen you just want to use the down arrow and go to SERVICE and hit OK
Select RESET
When it's asking you do you really want to reset it, hit OK to confirm
With Premium Display 2
Turn on your car
Press and hold the TRIP button on the end of the wiper lever to bring you you to the SETTINGS menu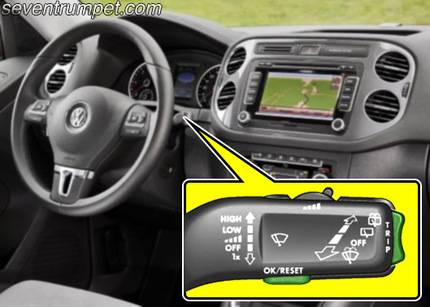 Then you're going to scroll down to the SERVICE
Press OK to enter the menu
Select RESET and then OK to confirm
2013-2019 VW Golf (MK7)
Turn off you car
Hold the 0.0 button down as you're turning on the car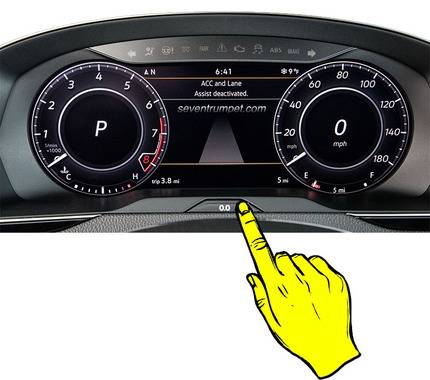 After that, it will bring up a prompt and you just have to respond to that prompt. The first prompt is RESET OIL CHANGE INTERVAL?, then if you hold it longer the second prompt is RESET INSPECTION INTERVAL? emerging
So now you just have to respond to that really quickly by hitting that 0.0 button once and it should reset it
2020-2021 VW Golf (MK8)
In this section, I'm going to show you how to access the secret menu on a VW Golf MK8 to reset your oil and inspection service lights.
Start up you car
So on the dash we're going to need to be on the DRIVING TIME/DISTANCE section
Then you're gonna press and hold the ◄❏ or ❏► button on the steering wheel for about five seconds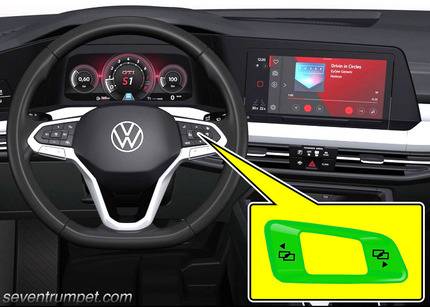 When you release it you're going to be in the secret menu
Select RESET INSPECTION or RESET OIL SERVICE
So that's about it. If you have any questions, please leave a question or a comment in the comment section below. So thank you for reading!